Catalan and Occitan: one diasystem, two languages
Occitan is one of the European languages that has experienced most adversity in its history: once the vehicle through which troubadour poetry flourished in the Middle Ages, it is now a language spoken fluently by less than 4% of the people in its linguistic domain. It is the historical language of a territory of about 200,000 km2, encompassing the southern third of the French state between the Atlantic, the Pyrenees, the Mediterranean, and the north of the mountainous region of the Auvergne, excluding the Basque- and Catalan-speaking areas and including, outside France, the Vall d'Aran and the upper Alpine valleys on the Italian side, in the provinces of Cuneo and Torino. Of the several places outside this area where Occitan spread, the town of Guardia Piemontese (population 1,913; 2018, Istat) in the Italian province of Cosenza (Calabria) is worthy of mention. Among the major Occitan dialects, Gascon (along with its southern variety, Aranese) stands out for its distinctive features; it is spoken in a triangular area bounded by the Atlantic, the Pyrenees, and the Garonne, and a little more to the east, on the northern side of the Pyrenees. The remainder of the Occitan domains are divided among the northern varieties (Limousin, Auvergnat, and Vivaro-Alpine), and the southern ones (Languedocien and Provençal).
The map pictured below, 'The major dialect divisions of Occitan', created from maps in Teulat (1985: 143–47) supplemented with data from Martèl (1983), Martin & Moulin (1998), and Rohlfs (1977), shows the distribution of the Occitan dialects. French departaments are indicated with their corresponding numbers (eg 34 = Hérault; 09 = Ariège); the Catalan province of Lleida, which includes the Vall d'Aran, with an L; and the Piedmontese provinces of Cuneo and Torino, which include the Occitan-speaking valleys on the Italian side, with CN and TO respectively. Nation state boundaries are marked by lines of crosses. The Occitan domains, and subdivisions for specific linguistic traits, are marked in continuous lines (for further details, see Lamuela 2012: 35).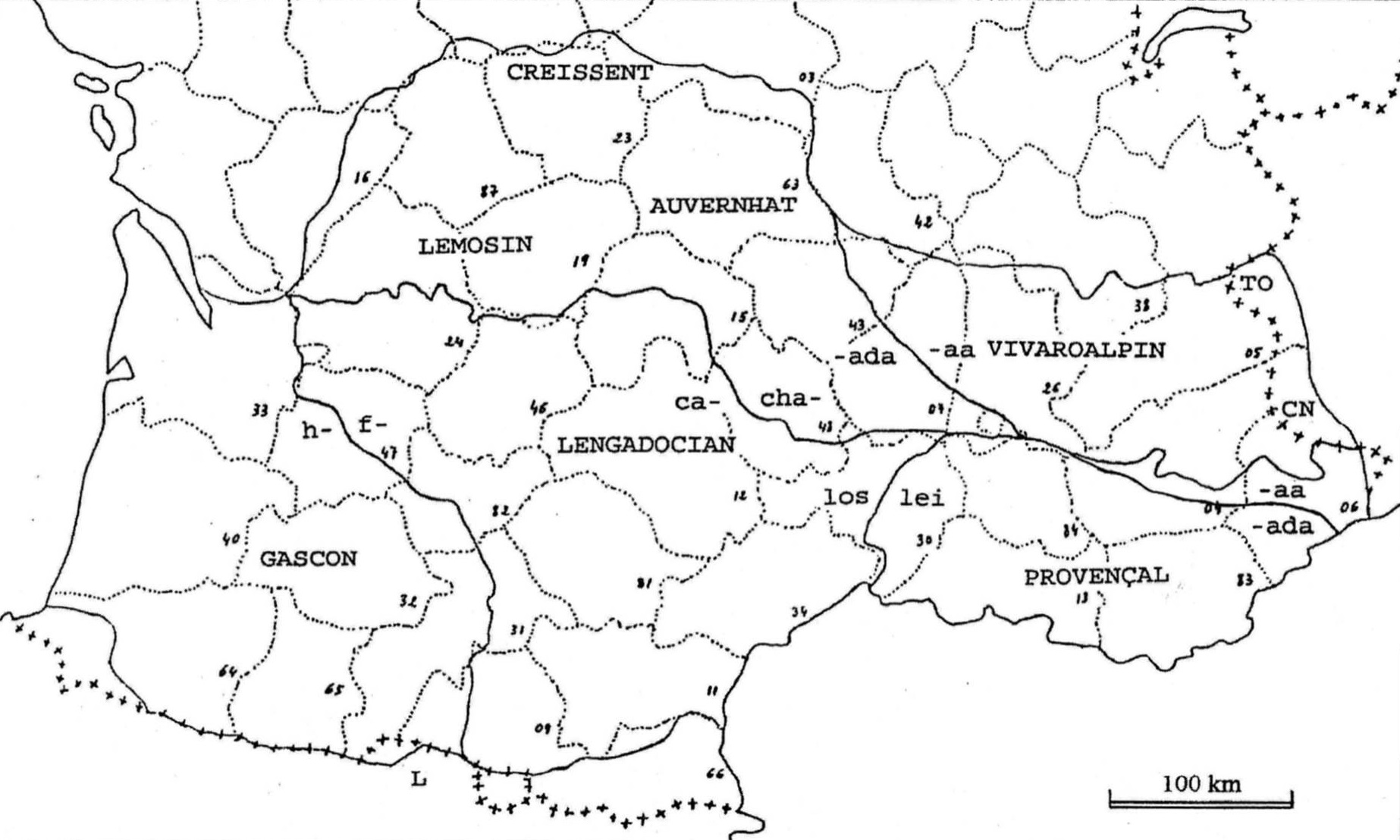 The major dialect divisions of Occitan
Thanks to the similarities in their evolution, Occitan and Catalan are two very closely related languages; so much so that early Romance-language scholars considered them to be one language, bundling them together under the single, rather inadequate name of Provençal. We can better understand the origins of these similarities if we bear in mind that, in three quarters of its territory, Catalan is a language of colonisation imposed on areas of autochthonous Arabic and Mozarabic speakers. The original area where the language emerged from the local Latin, so-called Old Catalonia, is about the same size as each of the major dialect regions of Occitan; a geolinguistic area which would fit naturally into this panorama. In terms of their linguistic characteristics and history, we could say that Catalan and the major Occitan dialects form a diasystem within the family of Romance language varieties, a diasystem that Bec calls 'Occitano-Romance' (1995: 6).
On the one hand we have medieval witnesses that conflate Catalan speakers and Occitan speakers into one —remember that Dante locates the langue d'oc in Hispania—; on the other we have Catalans who distinguish between the two languages from the earliest texts: Ramon Llull had his works translated into Occitan so that they could be read further north (Badia, Santanach & Soler 2009, 2016). Indeed, the fact that the Catalans used medieval Occitan for poetry and Catalan for prose texts is clear proof of a patent distinction between the two. We can therefore speak of two discrete literary and cultural traditions which became established as such, albeit within a historical context of increasing political differences. If we think of languages as elements that create distinct spaces of communication, we see that Catalan and Occitan are, from the outset, the foundations of two different spaces. This does not stop us from recognising the utility of a close relationship between them, however, for example in the effective promotion of both languages. It is not unreasonable to assume that if Occitan were as widely used as Catalan, the speakers of both languages would be able to communicate with each other spontaneously in their own language; in fact, this is what happens nowadays in encounters between Occitan and Catalan speakers.
Main phonetic developments of Catalan and Occitan dialects
This table only presents those developments which we can consider historical and which characterise the main Occitan dialects, without giving either the pronunciation of the forms contained therein or very local differences (see Ronjat 1941, Bec 1995). Some letters included in common spellings are given in brackets to indicate that they are mute due to a particular dialectal change: pan [ˈpaŋ] ~ pa(n) [ˈpa]. As we can see, the results of these developments often divide the geographical areas of the various dialects, and this is indicated by a forward slash. Hyphens are used to indicate that the evolution of a word coincides with that given in the previous column, without taking into account accents, adapted to common usage in writing for each dialect.
Root

Limousin and Auvergnat1

Alpine

Provençal

Languedocien

Gascon

Catalan

01 mediu

miei / mei

miei

mieg

–

miei

mig

02  lectu

lectu liech / lieit / leit

liech / lieit

liech

– / lièit

–

llit

03 oculu

uelh

–

–

–

–

ull

04

octo

uech / ueit

–

uech

– / uèit

–

huit > vuit

05 lacte

lach / lait

–

lach

– / lait / lèit

lèit

llet

06 factu

fach / fait

–

fach

– / fait / fèit

hèit

fet

07 caul-e /-ittu

chaul

–

caulet

–

–

col

08 causa

chausa

–

causa

–

–

cosa

09 ratione

raso(n)]

rason

–]

raso(n)

– / rason

raó ['o] ~ occ ['u]

10 placere

plaser

–

–

–

 – / plader

plaer

11 cantata

chantada

chantaa

cantada

–

–

cantada

12 puteu

potz

–

–

–

–

pou ['o] ~ occ ['u]

13 *voletis

voletz

– / vole(tz)

–

volètz

–

voleu

14 audire audir oir (sentir)

auvir / ausir

auvir

ausir

–

– / audir

oir (sentir)

15 sudare

suar / susar]

suar

susar

–

– / sudar

suar [u] ~ occ [y]

16 credere

creire

–

–

–

créser / -d-

creure

17 pede

pè

–

–

–

–

peu

18 credit

crei

–

–

–

cre / cred

creu

19 bella

bèla

–

–

–

bèra

bella

20 castellu

chasteu / -l / -lh

chastèu / -l

castèu

castèl

castèth

castell

21 annu

an

–

–

–

–

any

22 capanna

chabana

–

cabana

–

–

cabana / -ny-

23 *cumba

comba

–

–

–

coma

coma ['o] ~ occ ['u]

24 sponda

esponda / -ò

–

–

–

espona

espona ['o] ~ occ ['u]

25 luna

luna

–

–

–

lua

lluna ['u] ~ occ ['y]

26 lege

lei

–

–

–

–

llei

27 quando

q(u)and

–

–

–

quan

quan

28 quattuor

q(u)atre

–

–

–

quate

quatre

29 wardon

gardar

–

–

–

guardar

guardar

30 warjan

garir

–

–

–

guarir

guarir

31 sale

sau / -l

–

sau

sal

sau

sal

32 vitellu

vedeu / -l / -lh

veèl / -u

vedèu

vedèl

vedèth

vedell

33 directu

drech / dreit

–

drech

– / dreit

dret

dret

34 pane

pa(n)

pan

–

pa(n)

– / pan

pa

35 vinu

vi(n)

vin

–

vi(n)

– / vin

vi

36 cantat

chanta

–

canta

–

–

canta

37 branca

brancha

–

branca

–

–

branca

38 musca occ ['u]

moscha

–

mosca

–

–

mosca ['o] ~ occ ['u]

39 braca

braja / -i-

braia

braga

–

–

braga

40 *gauota

jauta

–

gauta

–

–

gauta > galta

41 plaga

plaja / -i-

plaia

plaga

–

–

plaga

42 podiu

puei

–

puèg

–

puei

puig
Xavier Lamuela2
Bibliography
Badia, Lola, Joan Santanach & Albert Soler (2009) "Le rôle de l'occitan dans la production et la diffusion des œuvres de Raymond Lulle (1274-1289)", Guy Latry (ed.) La voix occitane. Actes du VIIIe Congrès de l'Association Internationale d'Études Occitanes (Bourdeaux, 2005), I. Bourdeaux: Presses Universitarires de Bourdeaux, 369-408.
Badia, Lola, Joan Santanach & Albert Soler (2016) Ramon Llull as a Vernacular Writer: Communicating a New Kind of Knowledge. Woodbridge: Tamesis.
Bec, Pèire (1995) La langue occitane, 6th ed. Paris: Presses Universitaires de France. [The 1st ed. is from 1963; there is a Catalan translation: La llengua occitana. Barcelona: Edicions 62, 1977]
Istat, Istituto Nazionale di Statistica: http://demo.istat.it [consulted 06/06/2011]
Lamuela, Xavier (2012) "La llengua occitana: caracterització i situació actual", Mot So Razo 10–11 (2011–2012): 31–44.
Martèl, Felip (1983) "L'espandi dialect[a]u occitan alpenc: assag de descripcion", Novel Temp 21, 4-36.  
Martin, Guy, Bernard Moulin & al. (1998) Grammaire provençale et cartes lingüístiques. Aix-en-Provence: Comitat Sestian d'Estudis Occitans / C.R.E.O. Provença / EDISUD.
Rohlfs, Gerhard (1977) Le gascon. Études de philologie pyrénéenne, 3rd ed. Tübingen / Pau: Max Niemeyer / Marrimpouey Jeune. [1st ed. 1935]
Ronjat, Jules (1930–1941) Grammaire istorique des parlers provençaux modernes, 4 vv. Montpeiller: Société des Langues Romanes, 1930, 1932, 1937, 1941. [reprint: Slatkine, Genève] 
Teulat, Rogièr (1985) Uèi l'occitan. [s.l.] Institut d'Estudis Occitans.